Tony Wye's Home Page
Last Updated 3pm Monday 8th Sept 97

Bennett - The Interactive Tour - Now Available !
My new address is tony.wye@cheerful.com
Please change my entry in your mail package NOW !
This Wacky page has been visited
times.
At long last - Bennett the Interactive tour is online, click on the link below to access it
Please let me know if your comments by filling in the form at the bottom of this page
Welcome to Wyes World Web. This is your page so if you have any comments please use the form at the bottom of this page to let me know. Planet Bennett Will be appearing here soon.
Wyes World Web is written in Full JAVA (Unlike Blobbys poor HTML pages).
---
THE LINKS:

Bennett - The Interactive Tour Now Open.

Checkout Fatboy Bennetts Home Page Rubbish
Live Web-Cam of Paul Bennetts Desk.
Checkout a Live Piccy of Oslo (Where James is going to live !
---
My Hobbies:
I've been Lumbered with a Laguna V6 (Automatic !) for the Time being, the Cruise Control is cool, Just set it to 140 and away you go.
Coming soon to the Net.......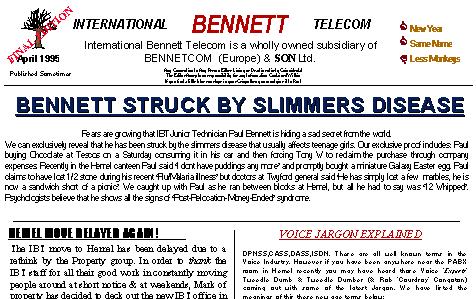 If you have comments about WYES WORLD WEB please use the comments form below to Mail the Webmaster Tony Wye:

Sponsored by Team Blobby - Your One Stop Fatboy